About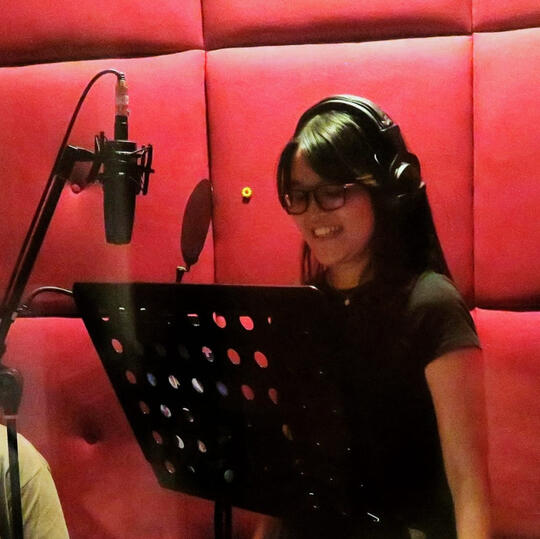 Michelle, also known as "Lylia" in gaming circles, is a bilingual voice actress and gaming talent based in Malaysia.

In voice acting, she is best known for her role as Chef Sunshine in the indie game No Straight Roads, released on all major platforms in Aug 2020.

With over 6 years of experience in the gaming industry, Michelle has worn a variety of hats - including part-time esports shoutcaster, Twitch partner, YouTube creator, and co-founder of Fundeavour, a startup managing top gaming talent. She currently explores gaming initiatives for Google Malaysia, in addition to her core role.

Michelle graduated from Oxford University in 2011 with a first class degree in Economics & Management.
Voices (Samples & demos)
Character Demo
[Cast] No Straight Roads - Chef Sunshine in-game voice sample:
[Malay Demo] Commercial / Conversational:
---
Home Studio Setup:
★ DIY sound-treated booth with acoustic blankets
★ Rode NT1 + Rode AI-1 audio interface
★ Adobe Audition
★ Izotope RX-8 Elements
★ Hardwired fibre internet (~700Mbps dl / 60Mbps upload)
Home Studio Sample Recording:
---
IMDb Profile

Training:
Basics in Acting - Enfiniti Academy
ADR (Basic & Intermediate) - ExtraTerrible Studios
VO in Video Games - Claire Fry
Tim Phillips Studio: On Camera Training - Tim Phillips

Coaches:
Fundamentals of Acting - June Yoon
Animation & Video Games - David Sobolov
Animation & Video Games - Michael Orenstein
GenAm Accent - Keri Safran
Contact me
Twitter: @lyliasea

Email: lyliasea@gmail.com